The benefits of integrating an online store with CRM, or easier - be sure to do the integration!
27/01/2020
Are you a online retailer? Having trouble processing orders, controlling employees, getting tired of switching between different services and losing customers more often? Need to speed up and standardize the work in some way, then you just need a CRM system that will facilitate routine operations by automating the process, and direct managers' attention to customer needs, while maximizing profits.
First, let's explore the main features of integrating an online store with a CRM system.
1. Leaders and Customers. Working with clients is one of the most important aspects, so you need to be able to transfer them to CRM. For example, from the feedback form, inquiries will go to Lead and customers who place an order from the shopping cart will go to Clients. Equally important is the ability to download the previous client base for further work and proper analysis by the CRM system.
2. Order. The key to integrating CRM with an online store is the arrival and processing of orders. Arrivals of orders occur immediately, with the necessary information on it, also attached to the customer and the product he ordered. Once the order is created, CRM automates the necessary routine actions.
All pre-orders can also be uploaded to the system.
3. Freight. For companies that sell from an online store, it is usually inalienable to stock. With CRM, you can control the movement of goods (arrival or write-off), and control availability. It is also possible to synchronize the product with the site, that is, if the site edited the product or added a new one, then the data is transmitted to CRM.
4. Correspondence with customers in CRM. If you have an online chat on the site, the questions can immediately go to CRM, and accordingly to engage with potential customers.

5. Connect multiple sites. When you sell from multiple stores, it can be difficult to switch between them, especially when there is a flow of work. Therefore, there is a need to search for CRM systems to accommodate all leads, customers and orders.
6. Working with delivery services. When working with product sales, most companies deliver to customers. This process takes most of the order processing. Therefore, presence in CRM, integration with delivery services is simply necessary.

How to simplify CRM work with parcels:
Speed ​​up the creation of the invoice (in KeepinCRM it happens in 2 clicks);
Keeps track of the parcel;
Allows you to print markers to send and create a letter for the courier;
Ability to create invoices for different mail services.
7. Integration with telephony. Most CRM systems have the ability to make and receive calls, as well as record all conversations. This is especially important for telephone companies and call centers.
8. Transfer of orders by managers. You have a company with enough managers, and the distribution of orders on them is uneven, or vice versa, there are new managers who need to provide less work. The CRM system will split orders on its own terms.

What you get after integrating your online store

1. Automation of work processes. Every company is faced with the fact that employees spend a lot of time on order processing, so the person who chooses the CRM system first of all pays attention to how it is able to automate and accelerate the work of employees.
What automatic actions a CRM can perform:
Create a customer card with all the data coming from the site.
Create orders that are attached to the appropriate customer and displayed in a separate section.
Going from ice to clients, on a chosen condition (creating an agreement, crediting finance).
Navigate the order stages according to the delivery status.
Send SMS messages on created templates, when going to a certain stage.
Write-off and return of goods from the warehouse.
2. The whole process of work is carried out on one system. Due to CRM systems, they can accept orders and clients from different sources and allow you to work with different services, for example:
Telephony;
Emeil mailing services;
Marketplaces;
Social networks;
Online chats;
Sites;
Landings.
The company, with the right choice of a system that has all the services with which it works, will eventually get one job, to work with clients and process orders.
What KeepinCRM orders look like: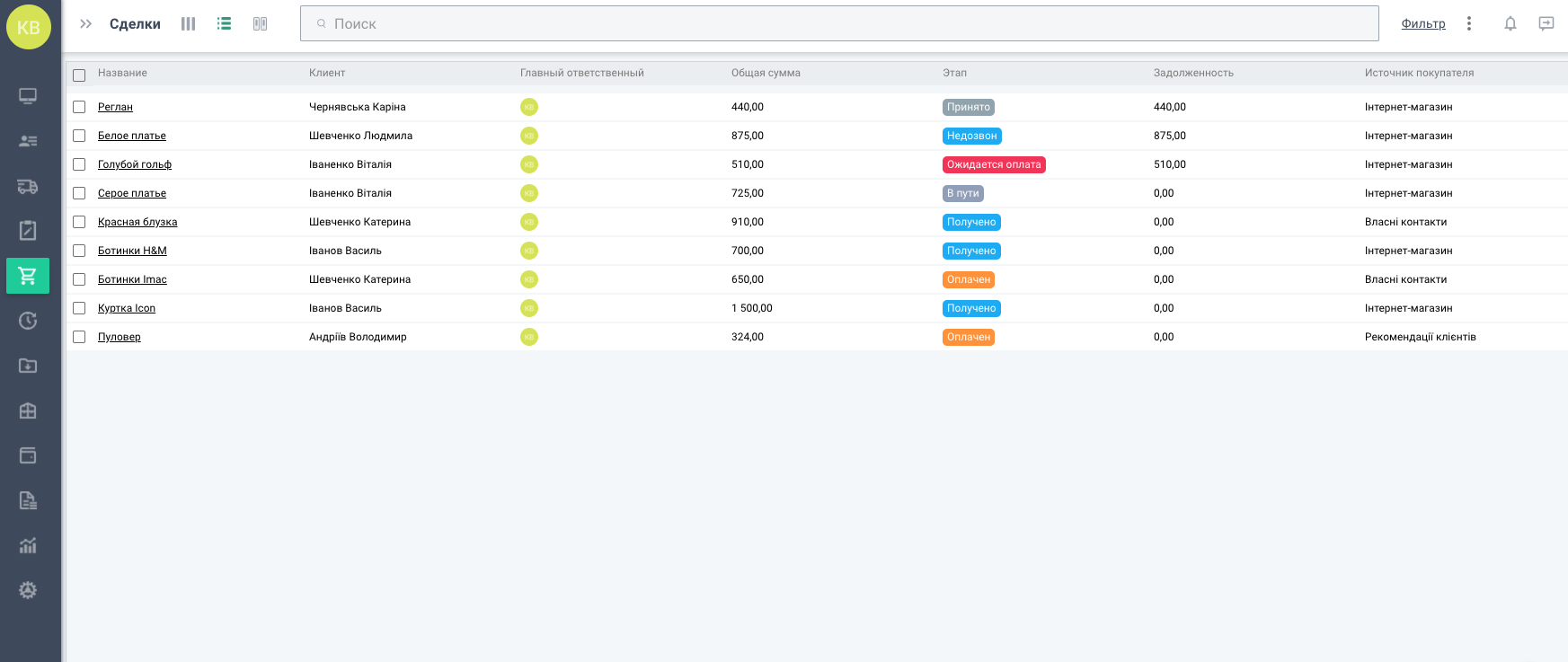 3. Analysis of the results. Of course, each manager needs to be analyzed: how the managers work, which product sells the best, the most active customers, the company's revenue and more. Based on the data collected, the manager understands how to better direct the attention of employees, and to form a better advertising company.
So, as a result of integrating your online store with your CRM system, you get a transparent and clear picture of your work. Also, thanks to the standardization and automation of the CRM system of the entire process, it greatly simplifies the work of employees.